Outerwear For All You Adventures
Each of us is on a unique adventure, and for some of us, that adventure leads us to incredible and exotic places under some of the more intense conditions. Thankfully, Arctic Bay isn't just designed for an excursion up the ski slopes or exploring the mall. Our premiere outerwear is also built to withstand extreme conditions while keeping you comfortable and protected. Looking great is just an added bonus, but we'll get to that.
We had the opportunity to sponsor an expedition through some seriously harsh terrain, and needless to say, we were proud to be part of it. On this trip, a team of geologists and geophysicists sought to traverse icy stretches of Greenland previously braved by travelers from all corners of the world, none of whom succeeded to complete their journey as planned.  
Thankfully, this team had the support of Arctic Bay and our quality winter coats to help them along the journey.
Gearing Up with Geologists and Geophysicists
If you're not already an expert, a geophysicist is an expert that concentrates on the behavior and internal structure of the earth. Meanwhile, geologists study the materialistic surface of the earth along with the internal structure. Both are profound and noble professions, and each comes with unique obstacles. It isn't all lab coats and bow ties for these scientists. So, getting to know the kind of gear geologists and geophysicists use can help you see why a premium winter jacket is such a big deal to those with adventurous lifestyles. 
The gear for geophysicists or geologists varies, depending on factors like the specific discipline they practice, or their position within their specific field. But for those on the project level, protective gear and hiking clothing can be essential. In many cases, the right gear for the expedition can make all the difference.
Arctic Bay Sponsors the Karelia Expedition
For the Karelia Expedition, Russians Fedor Konyukhov and Viktor Simonov made a plan to travel through an earlier inaccessible route from the North Pole to the South point of Greenland by dog sledding. This kind of fieldwork takes geophysicists and geologists out into a frozen wilderness, making it even more critical that they have the added protection and technical features provided by Arctic Bay outerwear. The legendary Fedor Konyukhov stated:
"Our Canadian down jackets are ready to pass an unprecedented test of durability in conditions severe northern elements!" 
In the first month and a half alone, air temperatures were estimated at around 40-50 degrees below zero. Functional design combined with the highest quality materials made Arctic Bay where strength testing is possible the greatest conquerors of the north. Our down jackets are designed for extremely low temperatures up to 55 ° C below zero. 
An extended stay in these kinds of conditions puts durability to a true test. Thankfully, the expedition can count on Arctic Bay Company's patented heavy-duty combination of fibers used in the manufacture of fabric for their down jackets. In a unique development, a mixture of cotton and nylon (30% and 70%, respectively), which makes the fabric durable, waterproof and windproof, and with this allows her to "breathe". 
But it wasn't just the scientists themselves benefitting from the quality protection of Arctic Bay. Through all four thousand kilometers of ice and four months in harsh conditions Arctic North, even the forwarders and press representatives covering this unique event wore our Arctic Bay down jackets! Needless to say, our sponsorship has never felt more appreciated than by the brave people who chose to be part of this exploration. 
Nunavut Parka: The Travelers Choice
When the team was finally given the chance to choose a winter jacket from Arctic Bay, they opted for a men's down jacket called Nunavut Parka.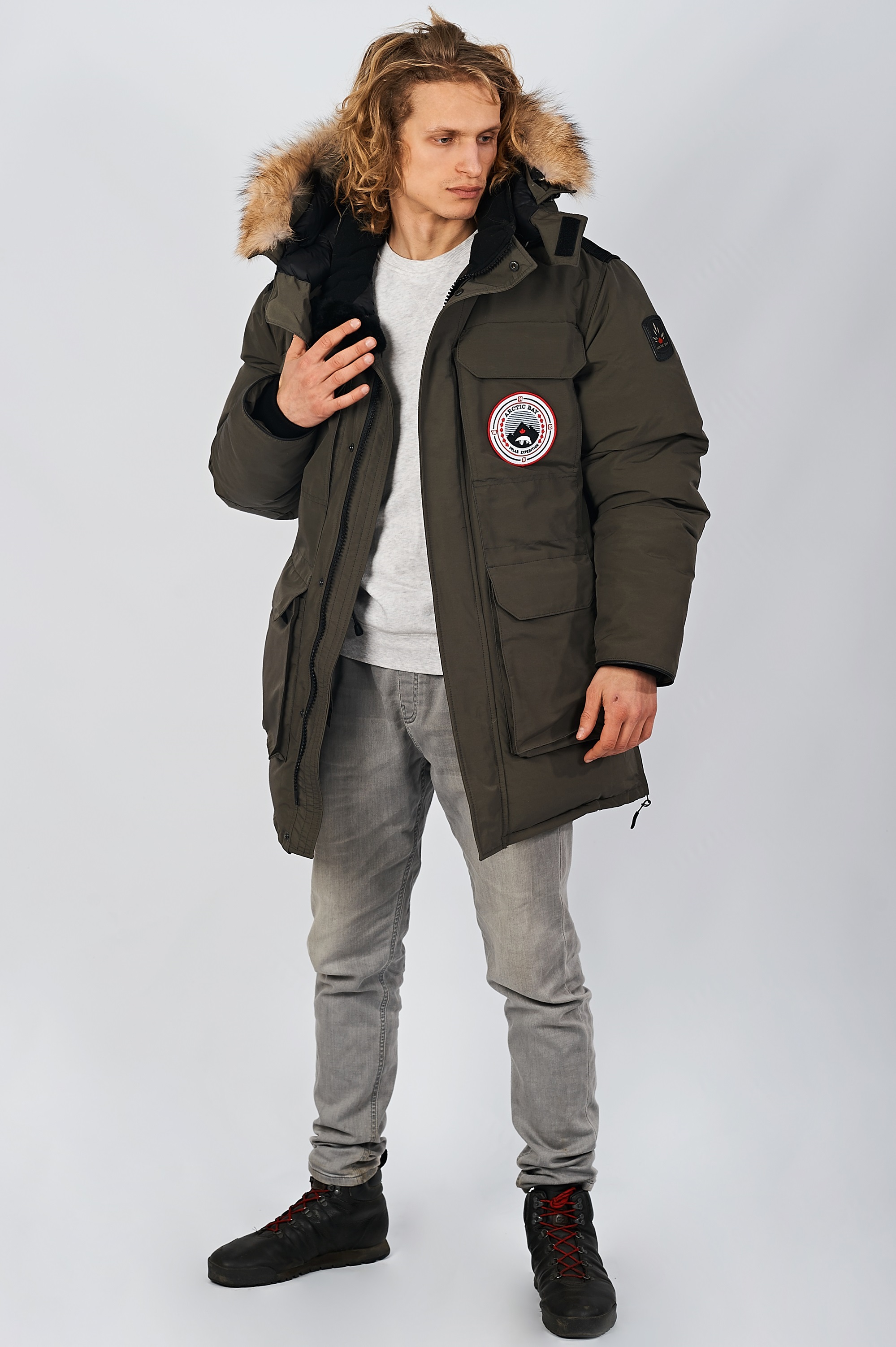 If one were to explore our full inventory, you would note that this is piece is one of the most utilitarian models in the lineup. The Nunavut Parka design provides not only reliable weather protection but also a well-thought-out system of zippers and pockets, including:
A bilateral front fastener of YKK with windproof bar

Zippers in the side seams

Capacious warmed hand pockets

Inside pockets with a zipper

Chest pockets with flaps
The double-edged hood made of selected coyote fur is not only removable but is also designed to protect your face from frostbite in a piercing wind at an extremely low temperature. Not to mention the added comfort of our sewn-in premium beaver fur valve on the collar for extra warmth. The Nunavut Parka also features elastic knitted cuffs hidden inside sleeves, protecting hands through the strongest biting winter winds.
Like all Arctic Bay jackets, the Nunavut Parka uses exclusively natural filler from Canadian premium duck down. As a result, our winter coats all have quality fluff, strength, and resilience. Additionally, they provide clothing lightness and longevity, which are especially important in Arctic expeditions. 
At the end of the journey, Arctic Bay's winter jackets proved to be a formidable resource out in the frozen tundra. For geophysicists or geologists, legendary travelers like Fedor Konyukhov and Viktor Simonov, and even the adventurers who dare tread their own new paths, Arctic Bay offers dependable, durable, and exceptional protection. 
---