Arctic Bay: Uniquely Canadian
At Arctic Bay, we have always taken the greatest pride in representing the beautiful Canadian communities in which we were founded. Because of that great Canadian heritage, we've committed over the years to keeping our home base and all of our manufacturing right here in Canada. Nowhere else can you find this kind of quality craftsmanship for winter outerwear that is both high fashion and effectively functional, and in such vibrant cities across the provinces you will find the perfect use for our winter jackets and extreme weather parkas.
While Arctic Bay is a uniquely Canadian brand with the culture and geography of the region engrained into our identity, we are also constantly working to expand into the global marketplace. We want to share that same quality and craftsmanship with dealers and distributors world-wide, as well as expanding our online marketplace to reach every possible part of the world where extreme winter jackets can make a difference for our customers.
As a homage to our homeland, we've also named our most exclusive lines of winter coats and parkas after some of the most beautiful cities in Canada.
Nunavut Champion Limited Edition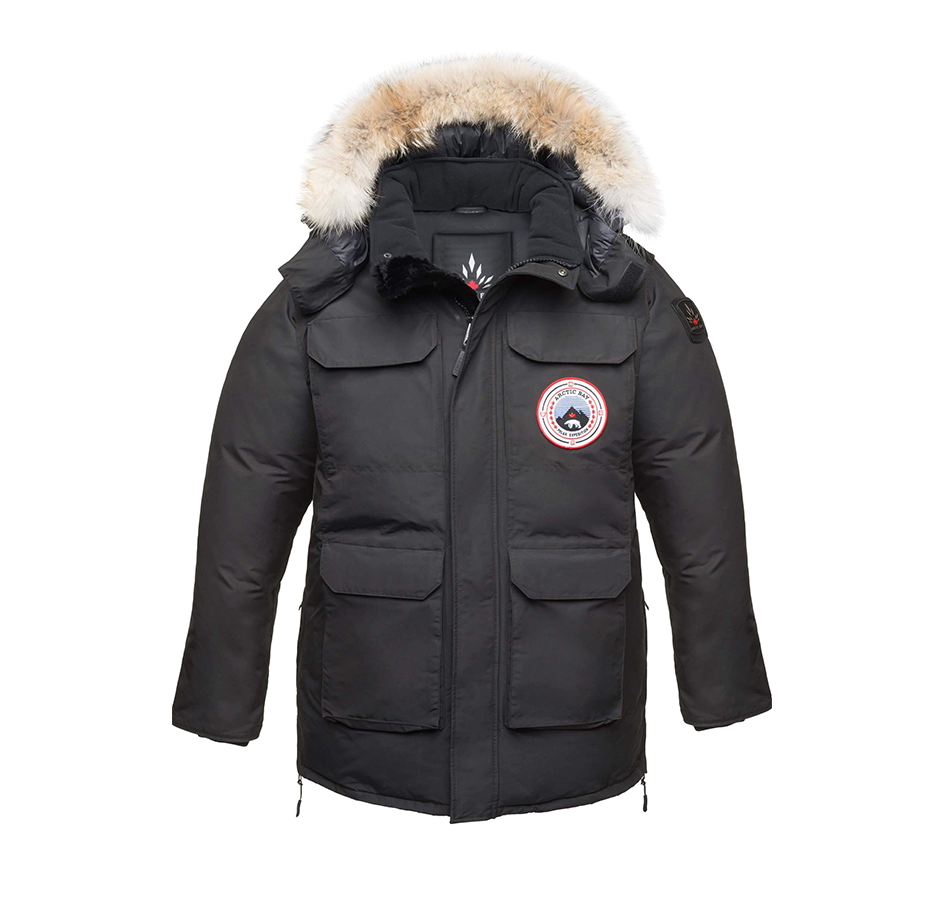 Named for the expansive tundra islands of northern Canada, this Canadian made Arctic Bay parka was created to endure the harshest winters of the extreme North and South. The TrueNorth fabric shell is waterproof, windproof, and warmed with premium Arctic Bay Canadian duck down with 725 fill power for an incredible temperature rating of up to -45° Celsius. The Nunavut parka has stood against some of Canada's most extreme winter conditions during the Karelia Expedition, when Fedor Konyukhov and Viktor Simonov traveled through the North Pole to the South point of Greenland by dog sledding.
This luxurious bomber jacket was named after the subarctic town of northwest Canada, located on the East Channel of the Mackenzie Delta. It's a sporty, slightly lighter style of winter jacket that still provides optimal heat and insulation in the extreme Canadian winter. As a stand-out in the Arctic Bay catalog, this slick and stylish aesthetic also incorporates mobility into its functionality. With the Inuvik bomber, you can keep warm and hit the town looking great.
For the gorgeous city of Kimberly in southeast British Columbia, we crafted a beautiful women's extreme winter parka that shines just as bright. Whether you are hitting the frosty ski resorts or taking in the stunning landscape, this parka fits right in with its namesake. The Kimberly down parka is the perfect choice piece to keep you warm while redefining the meaning of luxury outerwear, including the striking diamond quilt pattern on the body, which reminds one of the famous Kimberly mine in South Africa from which the city draws its legacy.
As the capital city of the Canadian province of Saskatchewan, Regina is a historic city filled with beautiful art and historical structures. Along with a flatter area than most provinces, Regina experiences warm summers and cold, dry winters, prone to extremes at all times of the year. Thus, Arctic Bay was sure to design the Regina Parka to be as innovative and interesting as the city that inspired it. This includes a hood prominently displayed Canadian origin coyote fur ruff, a top-stitched belt with leather buckle, and premium Canadian duck down filling perfect for those cold, dry days.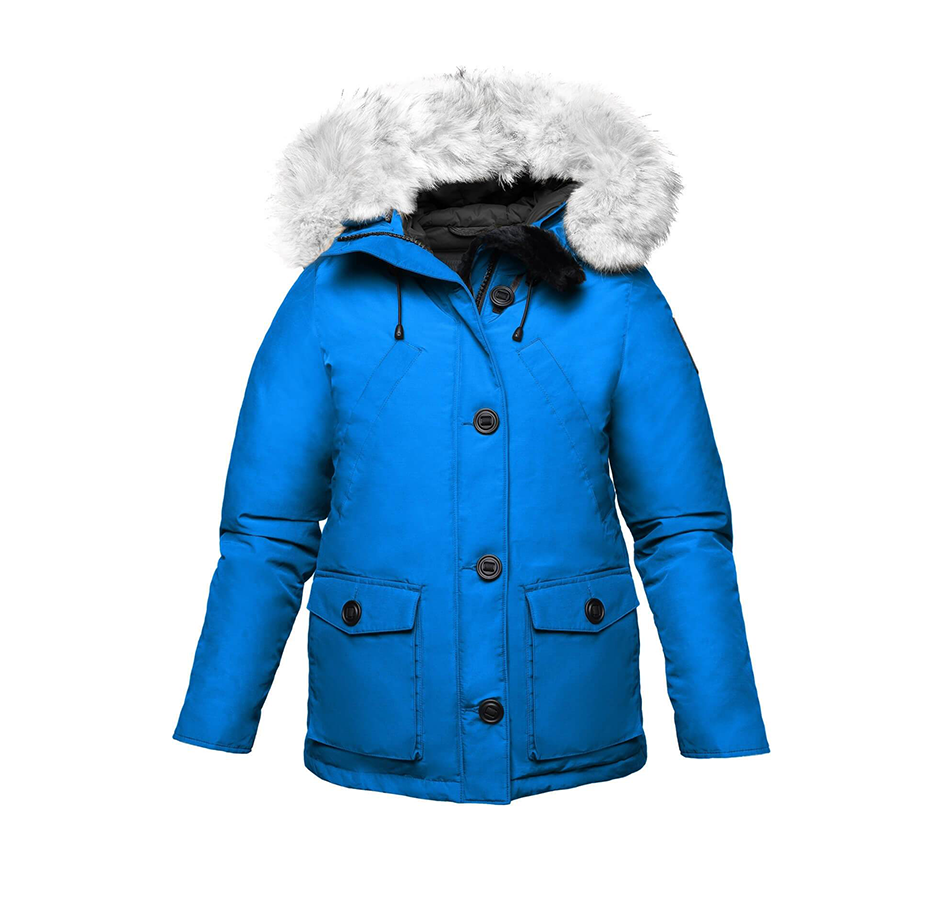 Named after the beautiful city of Laval in southwestern Quebec, Canada, this extreme winter parka is another great option for women this winter. Like the Kimberly parka, it has a temperature rating up to -45°C/-49°F and is 100% lined with nylon. Inspired by the French heritage of it's namesake, the Laval is designed to be beautiful as well as versatile, and practical.
Charlottetown is the capital of Canada's Prince Edward Island and the birthplace of the Canadian confederation, so we named one of our most practical and polished pieces after this amazing city with strong history, culture, and a thriving nightlife. The Charlotte parka is equipped with sleek, trim angled pockets and waist-defining detailing. This parka takes a classic design and adds some aesthetic excitement.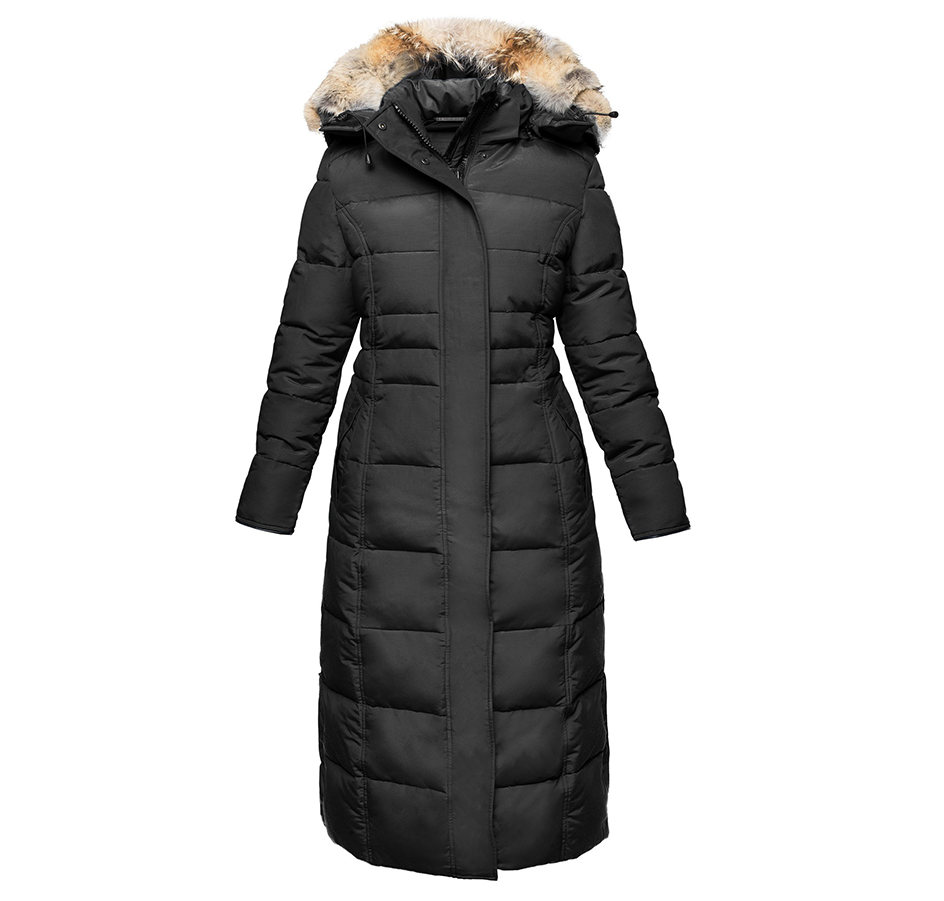 Sitting on the north shore of the Bay of Quinte in Ontario, Canada is the warm city of Belleville. To mirror it's class and beauty, we designed the Belleville Parka to be the belle of the ball with a long, elegant women's winter coat. It's sleek cut highlights its high class style, from the top of its fur-trimmed hood, to its bottom boot-top edge. With such a gorgeous look, the Bellevilla  does not lose out on protection from the elements. The higher nylon content ensures better tensile strength and durability, and it adds something special with single lip hip welt pockets for hand warming.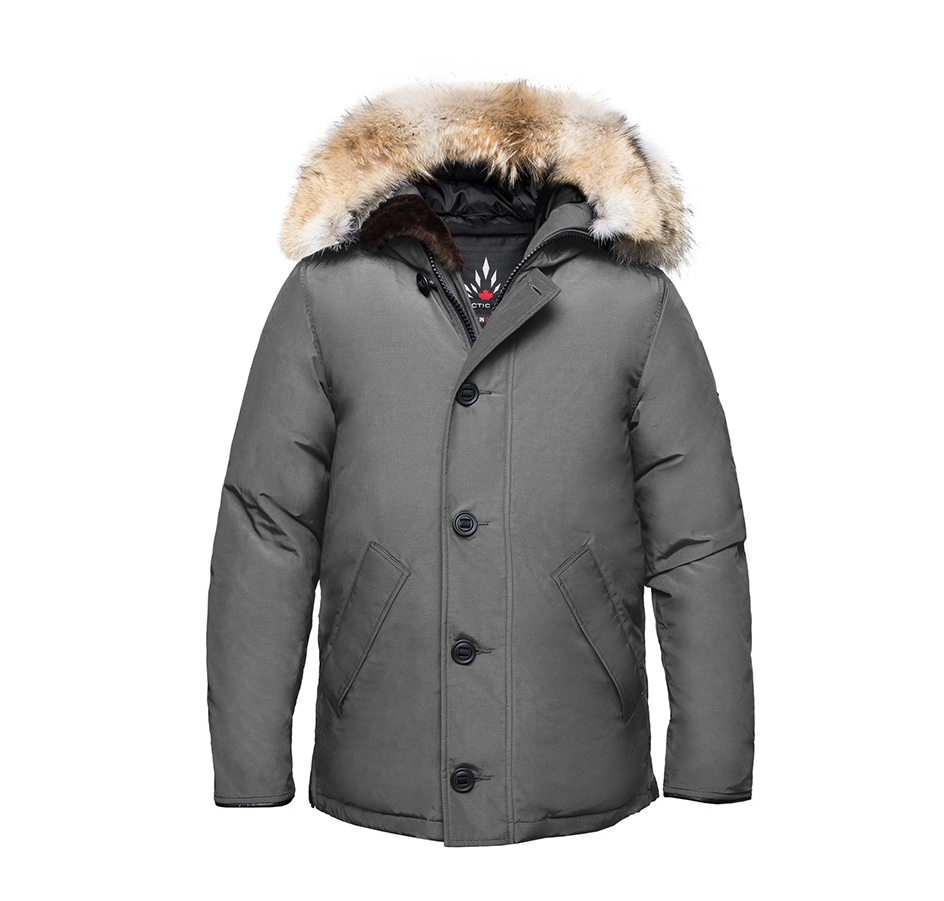 Last but most definitely not least, we look to the diverse and dynamic metropolis of Toronto, with a core of soaring skyscrapers and world-class theaters, thriving shops and cultural centers, and restaurants. Toronto is a hot-spot for the Canadian nightlife, which is why Arctic Bay's Toronto parka mixes amazing style with diverse functionality. Whether you love the real Canadian beaver fur beard guard, leather-trimmed cuffs, or the moldable in-hood framing wire, it is a comfortable and fashionable option to wear both around the city or out in the extreme outdoors of the Canadian winter.
---